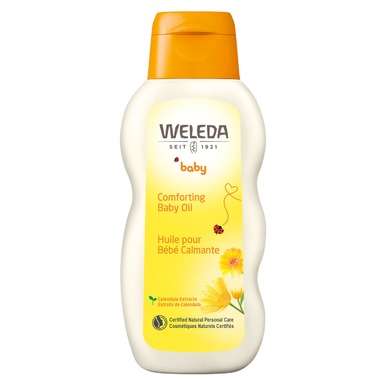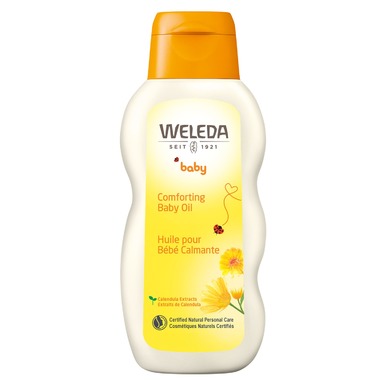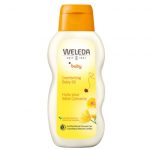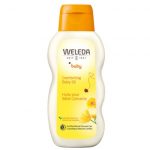 Weleda – Comforting Baby Oil – Calendula
$19.99
Baby-gentle body oil for rubs and massages
Description
Description:
Baby-gentle body oil for rubs and massages
A cuddle in a bottle – kind oils to cherish fragile baby skin and support baby's delicate skin.
Calendula Oil
An essential feature of traditional and ornamental gardens, calendula is rich with gentle and soothing properties
Description
An all-over body treat you'll both enjoy! Calendula Baby Oil swaddles baby in a warming, gently fragrant sheen of delicate oils. With sweet almond and sesame oil, extracts of calendula and chamomile and essential oils for a subtle, comforting fragrance. Use for all-over body care on baby's skin, or to give a loving massage with your own touch. Baby relaxes and skin feels silky and protected.
Benefits
Keeps moisture in and helps to support baby's delicate skin. Warming, delicately scented, leaves skin soft and smooth. Only gentle oils, ideal for baby massage, dermatologically proven to be very skin-friendly, even for sensitive skin. Free from synthetic preservatives, fragrances, colorants or raw materials derived from mineral oils.
Ingredients
Calendula Flower Extract
Calendula Officinalis Flower Extract
This gentle and nourishing botanical possesses soothing properties. Commonly referred to as Marigold, this annual herb is from the Family Asteraceae, the Sunflower Family. The Calendula plant is comprised of carotenoids, flavonoids and essential oils.
Sesame Seed Oil
Sesamum Indicum Seed Oil
Sesame seed oil works as a perfect massage oil and is used for the care of wan, dry and mature skin but it is also used as a hair conditioning product. It has a great skin caring properties
Schwäbisch Gmünd, Germany
Fair Trade Calendula
The calendula blossom used in some of Weleda's NATRUE certified natural products is cultivated in Europe's biggest biodynamic plant garden in Germany.
How to Use
Use as a mild cleanser on cotton wool or muslin cloth. Massage in all over lightly or use for dry patches of skin. For daily body care, after baths, or as a massage oil.